Create the Ultimate Immersive Universe
with AURO-3D®
Create the Ultimate Immersive Universe
with AURO-3D®
The Most Versatile Format For Your Creative Ideas
When the AURO-3D® format was created around 2005, it was the first true three-dimensional immersive sound format, developed by sound engineers who wanted to create experiences never heard before by a wide audience. With AURO-3D you can now use all the exciting possibilities of real-life, natural sounding immersive and interactive content to bring your creative vision to life.
Most Natural Immersive Sound
Because AURO-3D® supports channel-based immersive sound as well as advanced object-based audio, there are no limits to what you can achieve. Capture the emotion of a real-world performance or create your own auditory world… Anything is possible.
The Workflow of Your Choice
Use the AURO-3D® formats with up to 14 channels to capture real-life, natural recordings of intimate large orchestras, real-world ambiances like city or forest soundscapes, stadium sounds, etc. with any multi-channel microphone setup that fits your needs.
Combine it with the new, advanced possibilities of object-based audio to place sounds anywhere around the listener or create compelling interactive experiences.
Always at the Highest Quality
AURO-3D® is the only immersive sound format that guarantees the highest quality reproduction of your carefully crafted content. Supporting high resolution audio up to 192 kHz, it is possible to deliver your content with even the smallest details.
Distribute the Way You Want
With the AURO-CODEC, backwards compatibility with many systems is also guaranteed, thanks to the use of a multi-channel, uncompressed carrier signal in linear PCM.
The newer AURO-CX NGA codec is your ideal choice when you wish to stream your content and provide new, interesting experiences using its object-based capabilities.
All the Tools You Need
Whether you work on a digital or analog console or a DAW of your choice,
multiple options are available for you to create, monitor and distribute your content.
Native mixing in AURO-3D®
Full native support for recording and mixing in AURO-3D® is provided in Pyramix, Nuendo, Reaper and Da Vinci Resolve (for all AURO-3D formats up to Auro 13.1).
Pro Tools and Logic Pro X also provide great support but only for a limited number of AURO-3D formats (5.1.4, 7.1.4).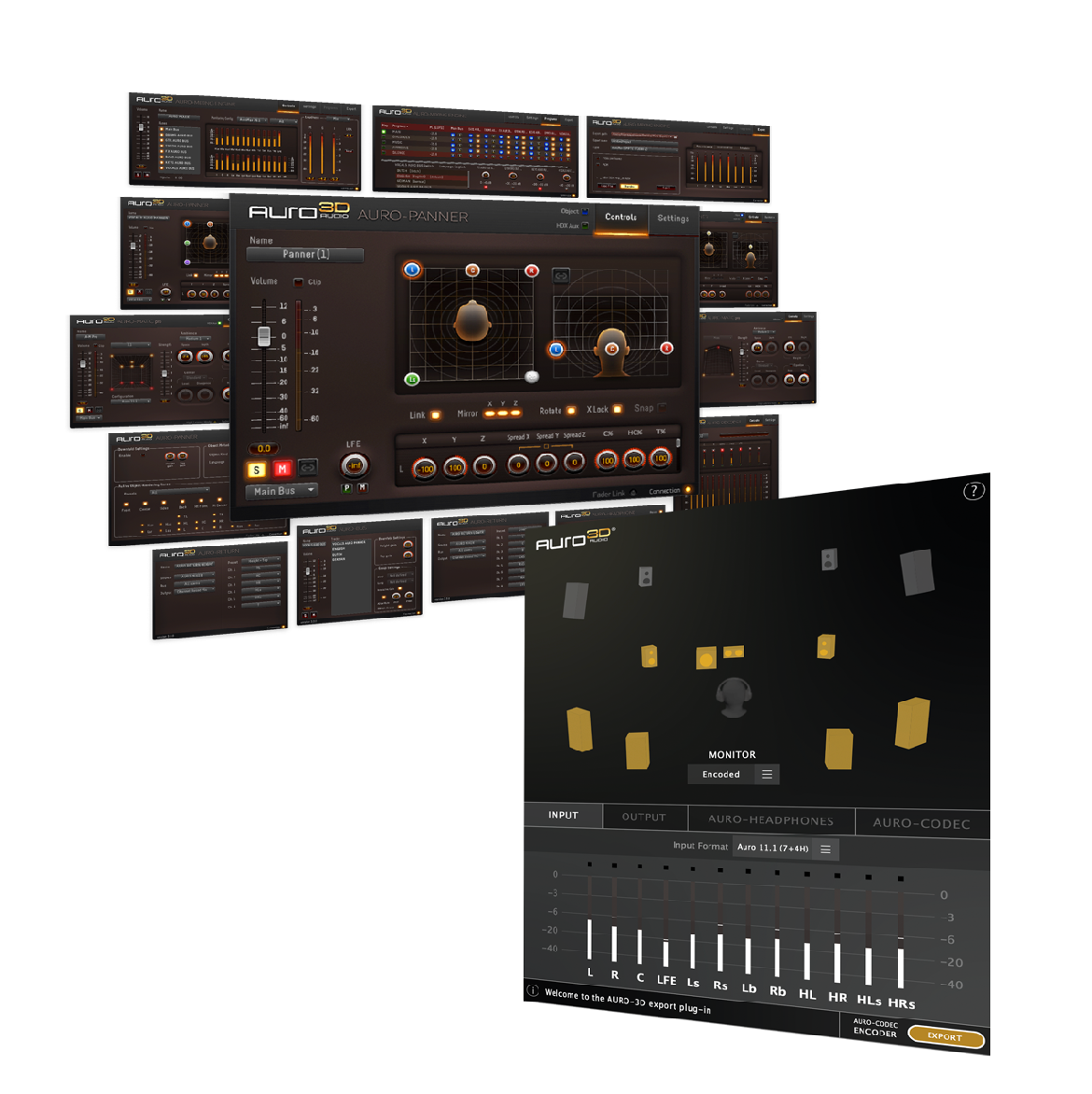 The AURO-3D® Production Tools
Use the AURO-3D Creative Tools Suite plugins for Pro Tools (macOS) to further expand the possibilities for creating immersive and interactive mixes in AURO-3D®. With the AURO-3D Export plugin (AU/VST, macOS/Win) integrating monitoring and encoding of your AURO-3D® mix is even easier.
Flexible and Fast Encoding
With the new AURO-3D Encoder Service, encoding of your AURO-3D® content is now easier (and faster) than ever. And with the support for ADM BWF-files and multi-channel interleaved WAV-files for many standards (ITU, SMPTE and Pro Tools) and formats (including 5.1.2, 7.1.2 and 9.1.6), the workflow is probably the most flexible in the industry.
GETTING YOUR STUDIO READY FOR AURO-3D®
Setting Up
When preparing your room for mixing in AURO-3D, it is advised to follow a number of important steps.
STEP 1

|

Make sure the room dimensions are sufficient for a full immersive sound setup:
➞ RECOMMENDED SPEAKER SETUP DIMENSIONS
STEP 2

|

Pick your ideal AURO-3D monitoring setup. Smaller rooms used for music productions, sound design or movie pre-production do not require an extended cinematic Auro 13.1 setup. More often than not, a well-tuned Auro 9.1 (5.1+4H) setup will allow you to create great AURO-3D content:
AURO 9.1 (5.1+4H) – The perfect setup for smaller rooms, music production, sound design, etc…
AURO 11.1 (7.1+4H) – Recommended for small to medium rooms. Ideal for music, broadcast, non-theatrical movie content production.
AURO 11.1 (5.1+5H+T) – The main configuration for cinematic productions. For larger rooms, sound stages…
AURO 13.1 (7.1+5H+T) – Extended cinematic configuration.
AuroMax 20.1 | AuroMax 22.1 | Auromax 26.1
Advanced cinematic system for large rooms such as post-production sound stages.
With speaker configurations up to AuroMax 26.1.
STEP 3

|

Install and calibrate your setup according to the guidelines.
STEP 4

|

Get the AURO-3D Production Tools needed for your workflow and choice of DAW via the AURO-3D web shop.
STEP 5

|

Mix, listen and be happy!
STEP 6

|

Publish your content
Interested to also become a member of the AURO-3D Certified Studio family?
PUBLISH YOUR CONTENT
Once your content is mixed, mastered and authored/encoded,
you can distribute your work in various ways.
Streaming has become the main way of distributing AURO-3D® content online.
Streaming services are introducing support for AURO-3D® in their platforms.

As a content provider, you can choose between two methods for streaming AURO-3D® content:
Using the Auro-Cx NGA codec, which was specifically designed for streaming and not only supports high-resolution, lossless transmission of your content, but also allows for much lower bandwidth (but still high quality) when required, saving you in storage and transmission bandwidth cost. It also provides new possibilities thanks to the support for object-based audio.
Encoded with the Auro-Codec as 6 or 8 channel PCM WAV-files, which are then further encoded using a lossless codec for streaming. We recommend using FLAC for its wide support in streaming applications, but other lossless codecs can be used as well.
                Check with your streaming service how to best deliver your content.
AURO streaming on ARTIST CONNECTION
Independent artists and labels may want to set up their own streaming service, or work with a white-label platform to distribute their content. Auro has partnered with Artist Connection to easily enable you to stream (and monetize) your content under your own control.
Providing your content as downloadable files can be done in several ways.
For content encoded with the Auro-Codec, we recommend encoding the 6 or 8 channel PCM WAV-files with the FLAC lossless codec. Various media players can easily handle this kind of files and allow you then to output the signals via HDMI to an AURO-3D compatible receiver for decoding.
Use the Auro-3D Encoder Service to directly encode your AURO-3D content with FLAC.

Content encoded using the AURO-CODEC, can be easily distributed on physical media such as Bluray Disc®. The 6 or 8 channel files can be used as PCM streams or embedded in a lossless encoded audio stream (such as with DTS-HDMA).

Various web shops and music services provide access to AURO-3D content:
Experience high-resolution AURO-3D® content from the following providers (non-exhaustive):
AURO-3D® Content is also provided as downloadable files on the following sites (non-exhaustive):
Streaming of AURO-3D content can be experienced via the Artist Connection platform. Read More.